A kind of silence
Development stage:

Published: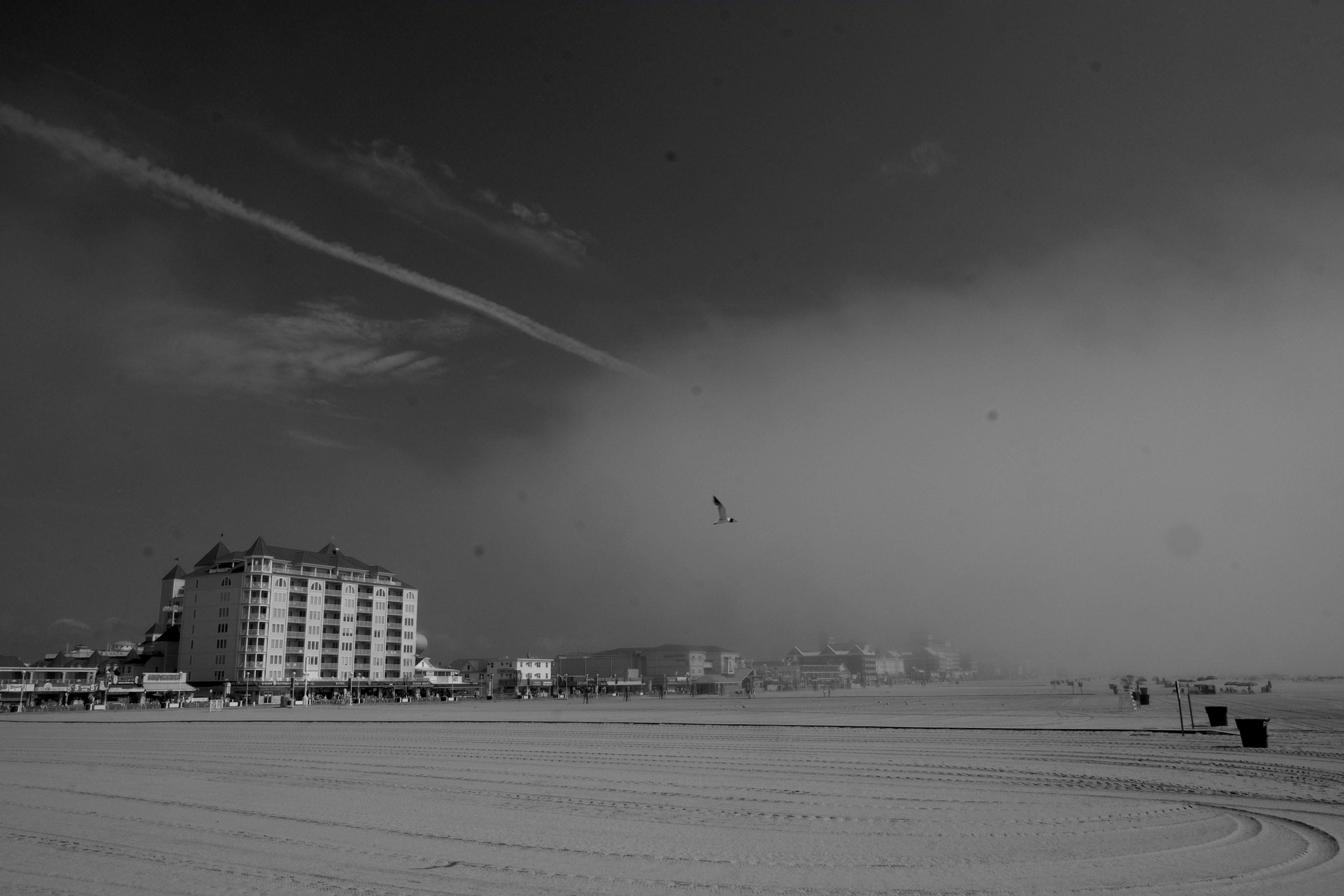 Every year, my in-laws make a pilgrimage to Ocean City, Maryland(Note: Or just 'The Ocean', as Baltimore folks call it.).
I'm not much of a beach person, really, but I appreciate the change of scenery each summer. And, Lord knows, the ocean breeze is a welcome break from the stagnant, oppressive heat we get at home in July.
On the morning after we arrived, I stepped out for a walk. I followed my usual route from our rented house to the inlet piers on the southern tip of the island, then north along the beach on the east side. I figured I'd hike up that side awhile and, whenever I ran out of steam, I'd take a left and walk back along the bay shore on the west side. It's a nice loop with views of water in both directions.
The 'city' part of Ocean City's name is, arguably, aspirational. The place feels more like an impromptu convergence of hotels, chain restaurants, boardwalk shops, and resort housing affixed, more than a little precariously, to a barrier island a quarter-mile wide. It's basically a sand dune sitting vigil between the Chesapeake Bay and the Atlantic which, somehow, fails to be swept away by the waves and currents and winds that have assailed it from both sides, every day, since forever. It is a place that seems to exist out of some volatile mix of stubbornness and desire.
As I headed north from the inlet I decided to walk on the beach awhile. The beach can be hit or miss. It gets crowded; the sun can be relentless(Note: Especially for someone like me, with the 'delicate' complexion of a naked mole rat… an albino one.); the hot, deep sand can be tough to walk through. But today there was a thick fog the sun hadn't burned off yet. The light was soft and the air felt relatively cool. The tide was low, exposing a band of compacted sand at the water's edge that provided an easy footpath.
As I moved along, one foot in front of the other, I felt a kind of… rhythm, a momentum take me over. I could hear the sound of the waves going in and out. Snatches of conversation from the people around me, bits and pieces, lost in the fog and the waves, or perhaps offered to a vast sea god. The water stretched out forever, I knew, but today it faded away in the mist. Gulls and pelicans glided in curlicues above.
I wanted to keep moving. I didn't want to stop. A camera was looped over my shoulder but I didn't take pictures. A Holiday Inn, maybe 20 stories tall, loomed in the distance, a dark silhouette. I decided I'd walk that far. A landmark.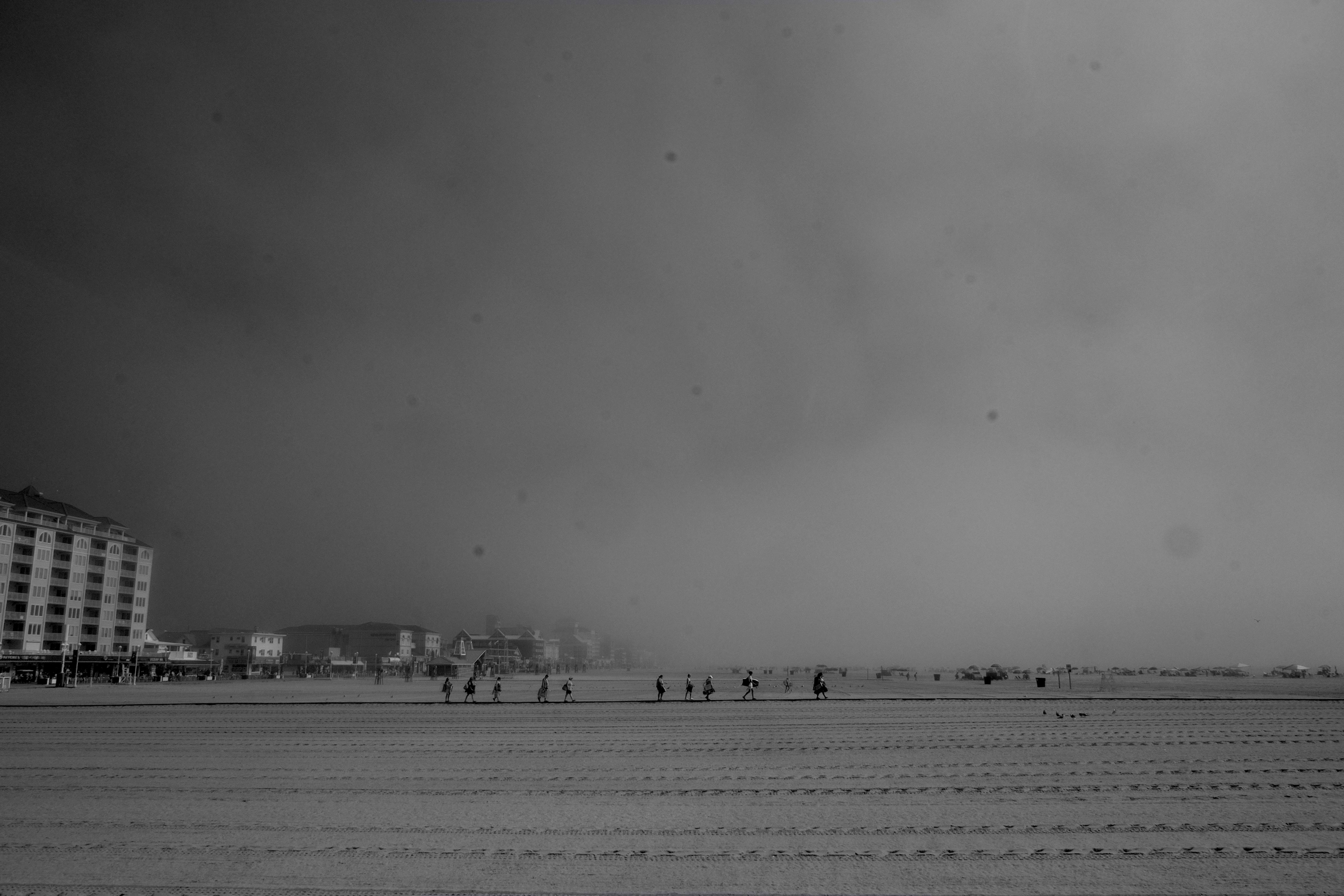 The beach was full of people doing their thing. People just being there. Happy to have this moment in this place, whatever it meant to each of them. Using whatever they've got. Some were here with nothing but a pair of shorts and their hands, building castles and digging moats and splashing around. Some brought giant glamping-tents and umbrellas and coolers full of beer. All shapes and sizes and preferences. Some folks — the religious, the sun-sensitive, or maybe just the shy — were covered head to toe. Others in bikinis and speedos.
A middle-aged couple, gray hair and laugh lines, sat side-by-side at the edge of the surf, facing the ocean. The waves pulled at their legs and submerged them to the waist. The giggled, smiled, held hands. They sat still as the water rose and fell around them.
Moving through the little crowds, I began to feel like a kind of non-presence. I drifted through, following a path that wound gently between knots of people — playing ball, splashing in the waves, reading books, chatting, digging in the sand — nodding and smiling and acknowledging but never stopping. Never dwelling. I felt a little like one of the seagulls flying around; sharing the space but also apart.
My mind quieted, gradually. The movement of my legs and the sound of the waves took me over. My Holiday Inn obelisk grew larger and larger, closer and closer. The thoughts in my head took a break. There were no problems to solve, no plans to make, nothing to discuss. I just kept moving. All was well.
I've read about the concept of 'moving meditation' in various contexts. While I've always liked the idea — the possibility that we could experience a sense of deep connection and clarity while moving through the world rather than, say, sitting still in a silent room — I've always had my doubts about whether such a thing was really possible. How could you really not get distracted by all the things going on around you?
But on that morning, walking along, I felt like I'd gotten a glimpse for the first time. All the sights and sounds added up to a kind of silence.